Alpha Industries – New to Mainline Menswear
Experts at creating military clothing in the US, Alpha Industries and their world-renowned fashionable outerwear is the latest line to arrive in our collection at Mainline Menswear.
They have been making their product for more than 50 years- since 1959 in fact- when they set up a factory in Knoxville, Tennessee making products from leased equipment with only a few employees. It was a quiet few years to begin with, but by the time they had developed their niche, the U.S was embroiled in the Vietnam War and the quality of their military equipment was recognized and purchased by the National Defense Department.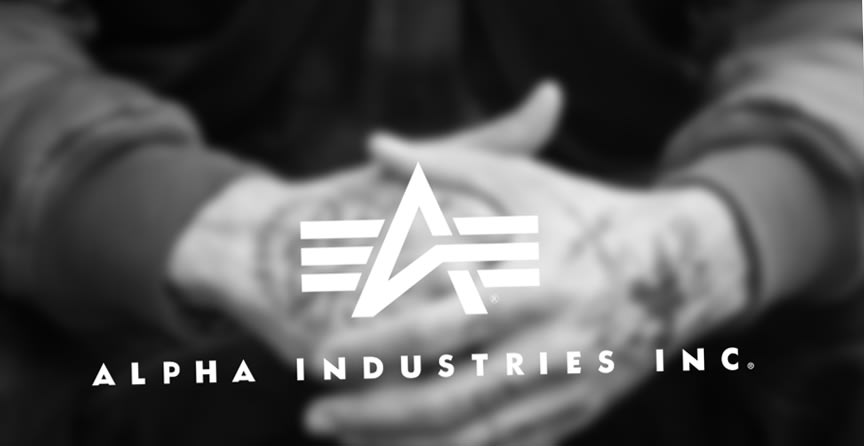 In a day where military-inspired uniform and material inspires many of the top fashion designers, those behind the brand in its modern-day form have recognised the gap in the market and subsequently taken the steps needed for this business to become a fully-fledged fashion brand, moving away from its initial identity.
Alpha now produce jackets, shirts coats, and a full range of other casual styled clothing in the essence of their original uniforms, remaining true to their roots and maintaining authenticity. Their reliable and superior design in their area of expertise has led people to appreciate the clothing for one of the most desirable characteristics any brand could hope to have- that is its quality.

Alpha has made many different types of clothing down the years and has still got a very wide portfolio of designs in its modern collection; however one of their most iconic jackets has to be the MA-1 which has become a classic of American fashion as well as a fondly remembered aviation uniform within the armed forces. The jacket was almost exclusively made by Alpha Industries during their early years and as a result, they became important figures in developing the performance of military clothing.
The MA1 itself has been re-imagined time and time again and is now designed in a range of colours including black, navy, red and green. The bomber jacket is hugely popular again this season as it can be used in most casual or formal looks and has a rare timeless characteristic. With their proven quality, it really is hard to look beyond Alpha Industries to create any bomber-inspired look.
The brand really reached its peak by the mid-'70s and their reputation was elevated to the extent that the general public wanted a piece too; people respect the military and just by association the brand began to amass a cult following. Excess clothing began to reach the public through the black market and through Army stores leaving the firm with solid foundations to take the brand to the streets.
Alpha was valued as more than just a fashion brand because their product was honest, reliable and wasn't in any way pretentious- it is because of their appearance on the street that they incorporated the signature three-stripe logo. These three bars or lines are now a visual representation of the Alpha Industries brand which people see as a representation of superior quality. At first, it was simply clear that they had outgrown their military days because when members of the armed forces were mistaking civilians for their colleagues they realised they needed to tag their products in a way in which personnel could immediately distinguish military uniform from their newly released casual clothing line. This is a method that has stuck over time and it has led to Alpha Industries trademarking it and keeping it as the identity of the brand today.
Equally famous of the company's 21st-century product is the addition of military-style badges of honour, which symbolize their unique heritage as well as satisfying the increasing demand for military aesthetics. Each product in the new range features its latest signature design trait which is the statement zip-up pocket on the arm with an eye-catching red label. They continue to use quality fabrics and line their product with fur and other rich materials to give it a luxury edge for the high-street compared to their original functional product.
Most people tend to stick to the military theme when creating a casual look with Alpha Industries, their jackets look at home with slim or skinny jeans though, and this can be completed with a pair of solid boots like those from Dr Martens or Palladium, who they have recently collaborated with to create a line of boots which- amongst other things- features the Alpha ribbon tag and the same nylon material as the MA1 jacket.
Below: here are our highlights of the new Alpha Industries line, to view the whole collection look here.
What did you think of this post?

0
0
[]
[]
[]
GBP
false
0
oAIAZFZMlAirglvdZjpoZjqQKXWvutQWrRwu