Biker Fashion
One of menswear's classic styles is the old school biker look and at Mainline Menswear this season there are plenty of ways you can get it. Added to the trademark designs by Belstaff we now have traditional biker brand Barbour International in the range and the number of other brands designing the biker-style leather jackets has risen considerably.
Of course, the leather jacket never really goes out of fashion full stop but the appeal of a biker look is one that has apparently only just become popular once more. It is hard to pinpoint where men's obsession with biker looks actually comes from, especially considering a good majority don't even ride them, but there is clearly something appealing about its rugged masculinity. These types of jackets always look cool; they are especially stylish when worn in too as if they are really authentic.

Origins
There is something quite liberating about a man and his bike enjoying the freedom of the open road, not for everyone admittedly, but it has been a popular pastime for over a century. Connotations with the "biker look" were formed in the early part of the 1900's thanks to themes that still exist today such as rebellion, adventure and brotherhood. A feature of the typical biker jacket is an asymmetric zip and modern interpretations take their style influence from the likes of former Hollywood actor Marlon Brando who made it his trademark item of clothing (below).
Biker jackets have been adopted by many types of people including punks, rockers, military personnel and more recently the everyday casual man. The remarkable thing about these types of jackets though is that they are never bound to certain looks or past associations, the look remains itself and the fact it never wavers from its uncompromising style is perhaps what makes it so appealing in the first place. Recent references to this style include the popular TV series, Sons of Anarchy which was a cult hit and probably triggered the resurgence of this style at the back end of last year.
Obviously, there is a lot more to the biker look than just a leather jacket, dark hues and a pair of rugged boots are also sacrosanct to any biker's style. Barbour International's silhouettes put an interesting spin on it with their quilted, wax cotton and waterproof designs.
Create the Look
The best thing about creating a biker look is that everybody interprets it in their own way, no look is identical and there is no definitive way to do it so the options are endless. Here we have put together three outfits that portray the style in a different light. Take a look and see which you think does it best.
Look 1
Here the Belstaff Roadmaster is the key piece and its elongated profile with a vintage style waist belt gives it a retro theme which has been continued with the chunky cable knit cream jumper. This look is a very traditional biker look but it also shows that it can be achieved without just black leather. The cream and tan colours compliment each other nicely.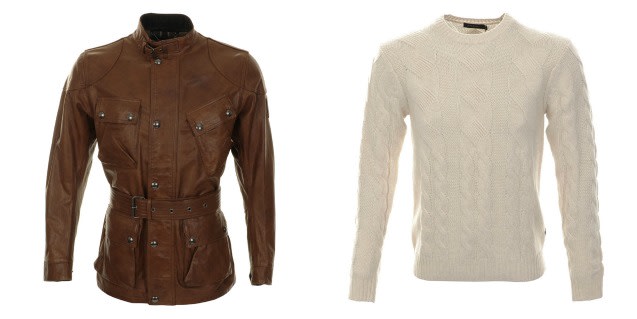 Look 2
Barbour's Waxed Duke jacket provides the base for the second outfit and it is a classic motorcycle style with its all-black, weatherproof exterior.

Look 3
The Hugo Boss Jama leather jacket features the classic biker-infused asymmetric zipper which gives this a real youthful feel. A pair of slim jeans and some sturdy boots complete the look.
 Biker Brand Focus: Belstaff
David Beckham's latest commercial work has seen him advertising for high-end Brits Belstaff and his sudden involvement with the brand is said to stem from this love of shopping for vintage biker leather jackets. If you watch the TV much you will have seen his documentary recently where he toured the Amazon jungle on a classic motorcycle, during this two-part programme he wore a range of Belstaff's leather jackets.
Originally founded in 1924, Belstaff has perfected the protective jacket over time but it was the Belstaff iconic all-weather cycle jacket that became a popular streetwear trend in the 1990s. Since then the brand has had a serious revamp and the brand's identity is now based around producing timeless garments of the highest quality. This fresh approach gives the brand an aura of high-fashion opulence.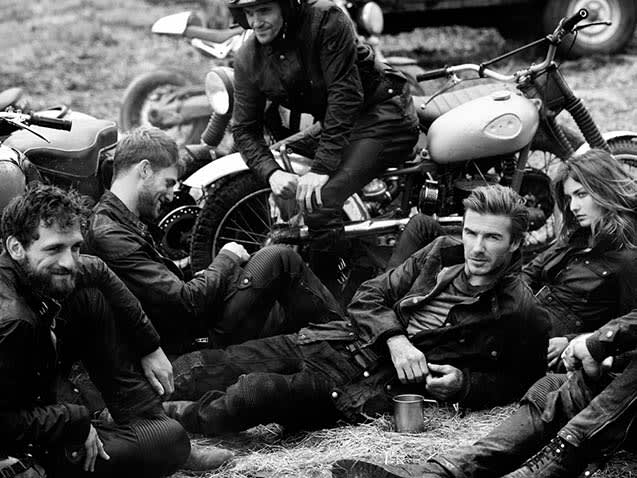 What did you think of this post?
0
0
[]
[]
[]
GBP
false
0
VYgaLLCZpZXqUwmPnZpCZlUfQJZOOUnardit