Brand Focus: Armani Jeans Style Guide
Armani Jeans is one of the cut-off brands in Georgio Armani's fashion empire and is widely regarded as one of the premium denim specialists in today's fashion industry. Today we look at what makes this such a successful label and at the continued excellence of their products.
Armani launched the separate AJ line in 1981, proceeding to earn a strong reputation in its own right. They are known for more complicated washes than the main brand in terms of denim, who have traditionally favoured simplicity. Their success in this area of clothing led to further expansion into designing underwear, t-shirts and jackets- items which are now just as highly regarded as their initial signature products. The Italian brand are renowned for their long list of celebrity endorsements, with famous advertising campaigns featuring the likes of Megan Fox, Rihanna, David Beckham and Rafael Nadal to name just a few. These household celebrity names have continually put Armani Jeans in the public eye and helped them become one of the most desirable labels to buy clothing from.
Year after year the AJ collection grows bigger and bigger so to help decipher which jeans are actually the right ones for you- here we have a quick size and style guide to really share some of the Armani denim expertise:
Classic- J31- Known as the classic for its all-round timeless styling, the J31 is a neutral design with a high waist unlike other designs in Armani's collection. It is a regular fit on the legs and features a zip fly and a straight leg finish with a light blue casual wash. This is a versatile styling and can be used as a platform to build a number of outfits around.
Smart Fashion- J21, J45– Coming in a selection of darker washes these two styles are an example of AJ's more formal jeans, whilst still maintaining the stylistic features of a fashion jean. J21 comes as a regular fit with both a regular leg and waist. The most noticeable feature is the simplistic stitch finish on the back pockets and also coming in a broad spectrum of colours to suit different occasions and outfits. J45 comes in similarly dark hues and also has a regular waist fitting, however it has a tight leg fit giving it more of a tailored look, perhaps more suitable to a formal outfit.  
Casual Fashion- J08, J20, J10– The jeans in this category are those which might be most typically associated with the brand for their range of washes and their eye-catching details. The J08 is an extensive style with a wide range of casual light washes as well as subtle darker ones; they also feature unique stitching details, rear panels and pockets. The style is a slim fit with regular leg but a low waist, hinting at a young consumer who is looking for a diverse wardrobe staple. The J10 is extra slim with a low waist and finished with a tight leg and zip for a consumer with a taste for high fashion outfits. Finally, the J20 matches the slim fit of J10 but comes with the difference of having a regular fitted waist. The pair come with a faded design and frayed knee and rear effects, offering a casual take on a tailored fit.  
AJ SS14
Armani Jeans' latest collection is defined by an off-duty sophisticated style, blending laid back colours and designs with smart weekend style wear, this line takes inspiration from the Italian summer lifestyle to produce a series of everyday clothing with a difference- the classic Armani expertise.
Of the Armani mini-brands, Armani Jeans has always been seen as the one which focuses on sport and casual clothing; through the remainder of the collection you will find luxurious training kit with t-shirts, tracksuits and accessories. EA7 is a venture in partnership with Reebok, who waded in to help with the newest range of footwear. Elsewhere you can freshen up with the supplementary quality of an AJ towel and crisp white underwear.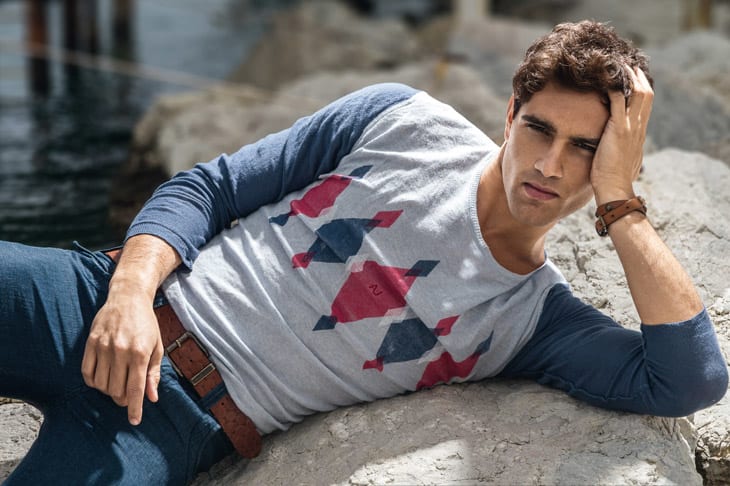 What did you think of this post?

0
0
[]
[]
[]
GBP
false
0
GNwZlNKQyJdOrgAbcTwZQvebJLQDQKTpPVZh