Brand Focus: Y3
The Y3 brand was born as a result of a collaboration between Adidas and esteemed Japanese designer Yohji Yamamoto, it has proved to be one of fashion's longest-serving partnerships whilst also a fruitful venture for both since 2003.
Two successful entities in their own right, Adidas and Yamamoto combine the expertise of a huge sportswear business and an avant-garde designer to target a new audience of consumers with a new high end, premium fashion sports niche. The Y in Y3 is a tribute to Yamamoto and 3 to the iconic 3 stripes of Adidas, this is more than just a collaborative line of clothing, and it has proved itself a worthy stand-alone label.
German sports giants Adidas are very well known, but perhaps the same can't be said about the enigma which is Yamamoto- not in Europe anyway. He is in fact one of the worlds most acclaimed designers with many accolades to his name and a huge following in his home nation of Japan as well as various other places around the world. Far from just a native success he has been based in Paris for over 2 decades and has flagship stores all over the world including New York City and more recently London.
(Above right: Yohji Yamamoto's achievements have helped him become recognized as one of the foremost fashion designers in the world. Befriending stars like David Beckham)
Y3 represents one of a number of successful branches of the Adidas family tree which includes other successful collaborations and micro brands in partnership with Stella McCartney and "Porshe Design Sport", these lines boost reach into different segments of the market, particularly the higher end of the market, blurring the traditional boundaries between high fashion and casual sports attire.
Known for operating away from popular trends and fashion, the Y3 brand is remembered for adding intricate detailing to classic silhouettes. The target consumer is a hybrid of the two brand's interest groups, allowing the product to enter the more expensive segment of retail pricing. Gyms around the world are laden with slightly more fashion-savvy members now, having mixed those with a love for sport's tastes with those of the Japanese "master tailor" they have stretched the portfolio to a completely new audience and variety of people. Sports clothing has never been so refined and luxurious in quality.
The eleven-year-old brand has recently attracted big attention within the footwear community from the news that they have snared rival Nike's "creative partnership" with rapper Kanye West. Having produced some of the most eagerly anticipated products on the market with his Air Yeezy's, he now moves to work with Y3 whose partnership has already vowed to produce new the next generation of West's popular Yeezy shoes for the coming season.
Below: Kanye is set to release his immensely popular shoe under the Y3 branding in future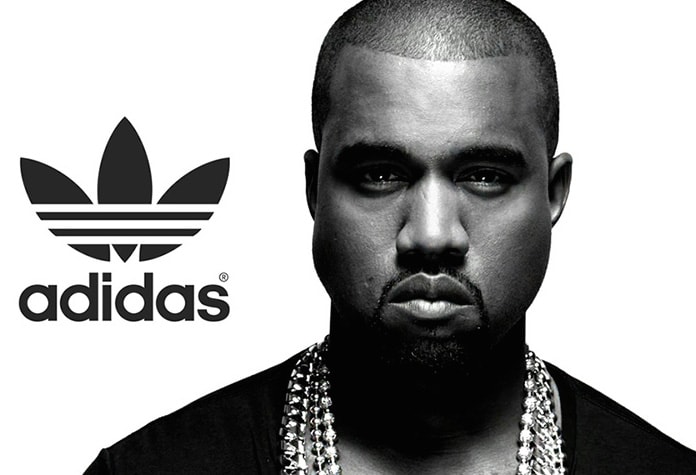 It isn't the only high profile celebrity endorsement attributed to the fledgling brand, a few years ago one of football's greatest players, Frenchman Zinedine Zidane fronted an advertising campaign with a series of moody shots, wearing the black colours which have subsequently become a trademark of the Y3 lines.
This season's line by Y3 is characterized by a series of high tech trainers with the popular boxing and sprint trainer returning in a new colouring with a unique trademark print by Yamamoto himself. Consumers aren't just paying for the best sportswear on the market in terms of technical specification; they are paying for the visual aesthetics of one of the world's premium fashion designers. The range features polo's hoodies and joggers all going for the minimal branding approach for a simple yet effective sports premium line. Stretching its presence further, the brand has recently created leather products and also non-traditional sportswear to try and merge the casual category with sport and formal. Shirts made from luxury materials are now a feature of the brand with a slim fit which is perfected by the man behind the brand himself.
A collaboration that already represents one of the most successful in recent fashion history, the Y3 legacy is already secured and is responsible for a whole new category of luxury sports clothing, extending the reputation of both entities to a level that couldn't have been foreseen. Y3 is the perfect choice of clothing for the fashion conscious sports enthusiast and looks set to raise the bar of standards in the sector yet again.
Here is our outfit for the summer using Y3's key items in the SS14 line:
What did you think of this post?
0
0
[]
[]
[]
GBP
false
0
tqmggKbhTMUOZZxjljdwOArgOWWQThtTSepe