G-Star RAW – A Crotch to C Type and Beyond
The original Dutch denim specialists G-Star RAW have been refining their jeans selections ever since their inauguration back in 1989. Their brand philosophy is stated as being "Just the Product" and this stubborn approach towards design has helped them achieve many "firsts" in the denim industry. Top end craft is combined with a street-ready edge, and as a result it creates a product which sits in its own sector of the market. The real innovation behind G-Star Raw's operation comes in their 3D and architectural method of denim construction to create unique fits. In addition they stick to using washes and treatments which keep a close affliction to the raw qualities in denim, today we looking closely at the special styles they have created throughout the process.
Despite being a company centred on their denim products G-Star have built up a base of complementing textured items to help denim appear more versatile to wearers. The result is a collection which features a plethora of fashionable cuts, for any occasion and in a broad spectrum of luxurious contemporary fashion pieces for the male and female wardrobe.
You can find these styles at Mainline Menswear in a selection of subtlety branded products as well as some much more defined ones.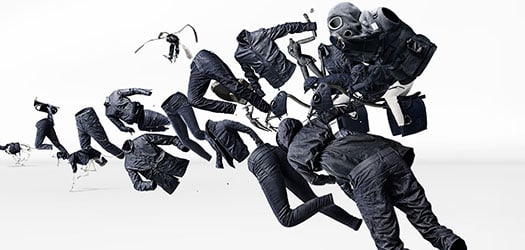 A Crotch
Designed in 2000 by Pierre Morriset, the A-Crotch is a traditional style by the Amsterdam company, but its features are being developed all of the time. Generally it is a tapered 3D design and is said to be inspired by a horse riding pant, featuring an extra panel on the inner leg as well as a dart at the knee to aid natural movement. It is named A-Crotch because of the shape the seams take in the leg which is that of a letter A. The design features distinctive back pockets which are big, low and exaggerated to reflect the unconventional design. Each pocket carries the "A" symbol from which the jean takes its name; such is the success of this style it is now accompanied by a whole range of A-Crotch shirts and jackets.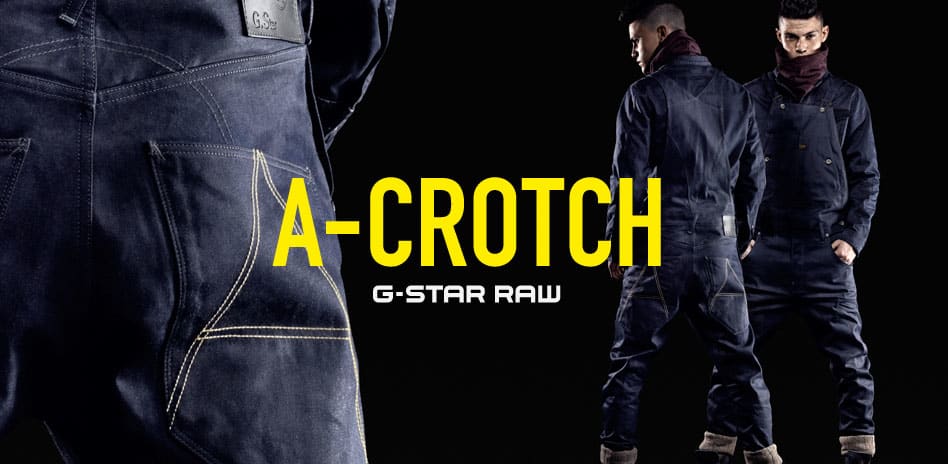 Fit Guide
Regular fit at the waist, hip and thigh; tapered from knee to ankle, the A-Crotch is finished with a regular rise at the front and back. This is an everyday, comfortable fit which maintains its sartorial element through a snug lower leg fit and multiple panels to keep it shapely in the key areas.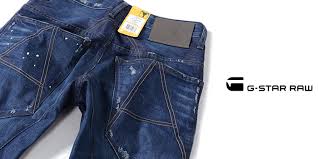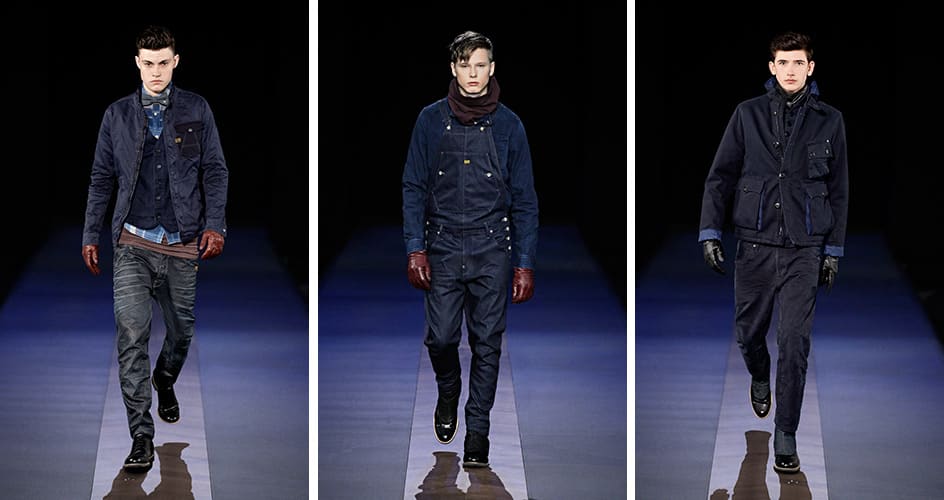 Style 
G-Star's unique dying process ensures each wearer will experience a different colour transition through wear. This is achieved through body movement and day to day activity as well as wash. Being such an adaptable product, it is up to the wearer to interpret their own style, but the A-Crotch looks great in a rugged aesthetic. This can be achieved in the A-Crotch range itself with a choice jacket being a particularly effective item to complete the look. View the A-Crotch look here

The A Crotch tapered in medium aged is a dark indigo denim with bright blue streaks of 3D wrinkling, it has a sheen on the surface with an oily type quality, perhaps a feature to tie-in with the industrial and workman-like traditional style of denim.
Type C
The 3D denim designed Type C is a heavily tapered style by G-Star Raw. It was first designed as a prototype for New York Fashion Week in 2010 and called "The Charlie" because it features a cropped leg and angled hem reminiscent of the legwear worn by Charlie Chaplin. Like the A-Crotch it is a loose fit primarily and it too has elongated rear pockets which are a standout visible stylistic feature. It is intended as a more comfortable version of a smart pair of jeans and was initially seen as a summer product before becoming an all-year-round favourite. Taking the range a step further, G-Star has introduced destroyed versions with Blight denim; a modern denim fabric with a genuine worn look.
Fit Guide
Type C fits loosely at the waist, hip and thigh and is tapered- similarly to the A-crotch from the knee to the ankle, finished with a regular front and back rise. It also features a low crotch with tapered 3D legs to compliment the fit which helps to maintain its smarter qualities. The fabric is 3 x 1 right hand twill, 9.5 oz and 100% cotton meaning these will achieve an unrivalled durability too.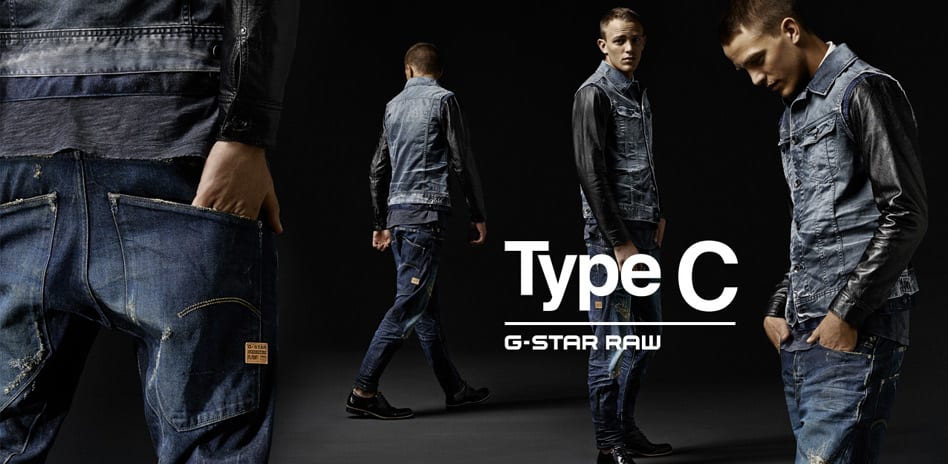 Style 
Coming in so many washes, colours and effects, the Type C could be the perfect base to build a multi-tonal and textured denim look, or a double-denim look if you like. The worn, loose appearance of the Type C will perfectly compliment a tighter fitting denim jacket or shirt in a contrasting colour to the jeans. Many of the jeans in this style have two tones of colour or a worn out effect to make them a broad platform for building a number of looks upon.

The Type C 3D Loose tapered in light aged Retton denim is a product which brings vintage details together in a modern fit. It has a medium indigo base shade complimented by a pre worn hand feel for a rugged look. 

And Beyond…
The Type C and A Crotch at G Star Raw cater for those who value the comfort and style of a pair of loose fitting jeans, but still want to achieve the tailored fit you might expect from a designer denim brand. The brand are always pushing on to improve their denim and this season there is a considerable push on the New Radar style and the Defend, skinny style. In addition, Arc 3D is a vast range which covers a number of denim products, not least jeans which are usually slim fitting and are an architecturally inspired design to create depth and volume, "turning" around the leg with its twisted seams to achieve an asymmetric fit. The new Defend jeans which you can see in the new collection here at Mainline Menswear takes this one step further and is the brand's most prominent super slim fitting jean.
Surpassing 20 years of pure denim innovation, G-Star Raw sits justifiably alongside the likes of Levi's as a pioneer and industry leader in denim wear. The reason they have succeeded is because they don't don't try to replicate these brands and they offer something completely different. Instead of focussing on heritage they push boundaries and set designers the challenge of investigating new materials, styles, cuts and treatments to be the most technical denim brand in the world.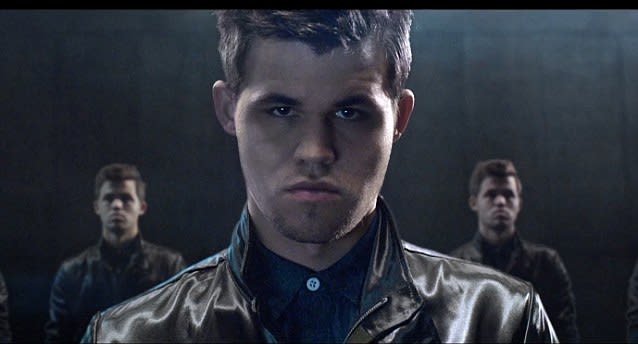 What did you think of this post?
0
0
[]
[]
[]
GBP
false
0
OJulWDCRIEZoLHsuZFqPZNZOmUZyDLoFKDZq