How To Style a Check Shirt
Checked shirts are popular with everyone, from hipsters to lumberjacks, we all own a check shirt or five. Ranging from casual to slightly smarter, plaid shirts can fit any style and occasion.
A designer check shirt should be a staple in every man's wardrobe. Unlike Hawaiian shirts and jean shorts, your checked shirts will never go out of style, so buying one now is an investment for the indefinite future. Here we'll explain how to pull off all the plaid shirt outfit ideas you'll need for this fashion staple.
The material
Every man needs a plaid shirt that can be comfy to wear around the house, but also a nice shirt that you can run errands in. One factor to consider is the weather. You don't want to be wearing a thin shirt in the middle of winter. If it's cold, go for a flannel shirt with long sleeves. 100% cotton will keep you warm and comfortable for hot weather. Like this check shirt in navy from Gant.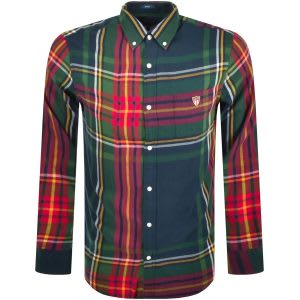 In the summer you can opt for thinner material and brighter colours to reflect the nice weather, a good example is a smart short sleeved shirt from Fred Perry.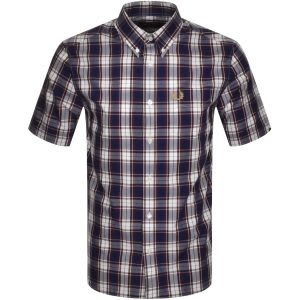 Layer up
A check shirt is also good for layering when it's not too cold. Adding an opened button flannel shirt over your t-shirt is a great look for added warmth. Remember, check shirts can be worn both done up and undone – as long as you're wearing something underneath, don't be that guy.
A plaid shirt can look great worn as a middle layer between your favourite tee and a denim jacket.
Wear it casually
A plaid top can look great worn with dark skinny jeans for an everyday look or even chinos if you want to get slightly smarter. Add a trusty pair of desert boots and you're all set for your day out in the city. A check shirt is also great for that rugged look – wear an oversized shirt over your favourite skinny jeans. If you're wearing a shirt with several patterns, make sure the other pieces are neutral, otherwise, you risk looking like a walking jumble sale.
Smarten it up
A check shirt can also be seen on many men dressed up on more formal occasions. A well-fitting shirt with a smart tie can make you look like the GQ style man you always wanted to be. Just be careful not to overdo it – a check shirt is a statement piece, not the focal point of your outfit.
A checked shirt is a versatile and stylish item that's definitely a wardrobe staple. There are so many ways to wear a plaid shirt that it's never going to go out of fashion any time soon.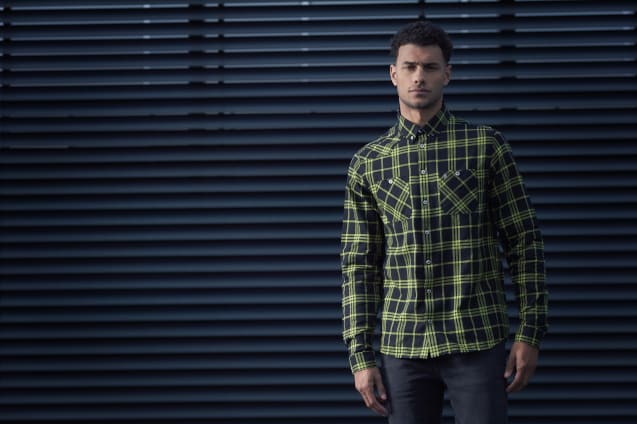 Smart casual
When you're going to a more formal event, a checked shirt is perfectly acceptable to wear. But it is key to make sure you don't overwhelm yourself with the clash of patterns and colours. Small checks are considered neater and a more formal style compared to larger widespread checks. The sleeve length should be long to match a suit jacket. Also, if your event includes you having to wear a tie, then the thinner the tie the better as a thick tie can look uneasy against a checked shirt.
It is also important to remember the suit and tie should be in a neutral colour such as black. Otherwise, your outfit could look too "busy". Slim jeans and leather shoes (or even a nice pair of ankle boots) can round off this look perfectly.
Smart casual is a difficult style to master when trying to wear a checked shirt. Try to go for neutral hues, quality material and long sleeves. Also, is your shirt is showing off a lot of colour in the plaid pattern? Then the rest of your outfit should be more subtle in order to match. Black jeans and smart sneakers are the easiest option and will go with any other clothes.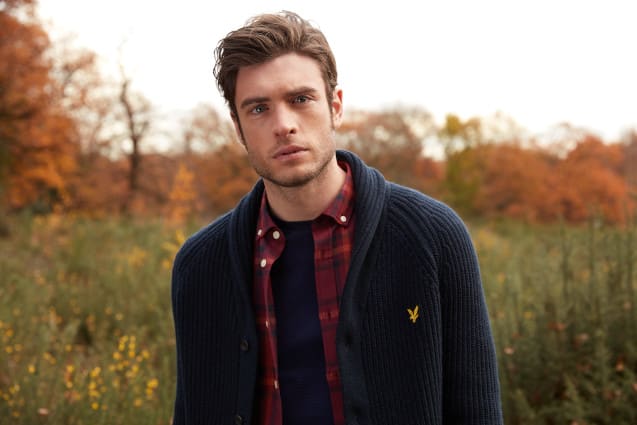 Under a jacket
Plaid shirts look fantastic under a dark denim or leather jacket. To really nail this classic look, make sure the shirt is untucked and the coat is slightly unbuttoned. A checked shirt styled in this way can be dressed up or down, depending on the occasion.
This style is perfect for a more relaxed look or for just hanging out with friends on a weekend. All you need is a good quality denim coat or leather jacket and some dark jeans.
With a tee
This is the most laidback look and requires very few items – perfect for those who want to keep things simple. You can wear it with any colour T shirt, but try to avoid black as that will only make you look like an extra from Grease (and we're guessing you don't want that).
A checked shirt rocked over a casual tee is perfect for any relaxed outing. Make sure you style up your shoes slightly more than your top – but not too much as you don't want to be over-dressed compared to your outfit.
Around your waist
If you think you can pull it off, why not sling a check shirt around your waist as an accessory? Worn alongside or instead of a belt, it can add that something extra to your outfit, without being too in your face. This look is perfect for a music festival or a day spent at the beach.
With chinos
Chino trousers are very versatile and can easily be dressed up or down. A check shirt is the perfect item to wear with chinos to create an easy smart-casual look – simply add a pair of Chelsea boots or brogues and you're good to go.
A flannel shirt worn with tailored pants can also be taken from day to night very easily. Just add a smarter jacket, a scarf and a pair of smart shoes.
With jeans
A checked shirt worn with a pair of dark skinny jeans is a casual look that is perfect for going out with friends or going to the cinema – anything casual basically.
You can pull off a long sleeve shirt here, but make sure you don't wear it with a suit jacket or blazer as it will look too formal.
This is a very easy style to put together and can be done with any type of jeans. For extra style points, try a printed T-shirt underneath your shirt.
Final thoughts
A checked shirt is a very common casual style that you can easily smarten up to create a preppy look for formal events. If you're wearing the right size and colours that suit you, you cannot go wrong with adding one of these shirts to your wardrobe.
Now you know how to wear a checked shirt, it's time to go out and buy yourself one. Remember, a designer checked shirt is an investment piece that will never go out of style.
So, make sure you get the right fit and style for your body shape and personality. With all the different shades and designs out there you're sure to find the right look for you. Get some inspiration from our Short Sleeve Shirt Guide!
What did you think of this post?
0
0
[]
[]
[]
GBP
false
0
GSKGVjehZRGHJGMwZGyZXNfSSuqZncwuVSkE