5 of the Best: Chunky Knitted Cardigans!
Here on the East Coast of England temperatures have plummeted over the weekend. While driving in to work at Mainline Menswear HQ in Scarborough on Monday morning and the dashboard was alerting me that temperatures were in fact at freezing point!
Shivering away despite have layered up with two t-shirts, a hoody and a gilet before the penny dropped as to what this week's on trend product / get the look write-up should be about – something warm. Something very warm!
What could be warmer than a chunky knitted cardigan? Long gone are the days when cardigans are associated with the grey haired, older generation. Today, designer clothing labels from across the globe are embracing the cardigan, an item of clothing item which is increasingly reappearing in more and more men's wardrobes as designers continue to push various designs of wonderful woolly garments.
It's perhaps a little predictable to bang on about the weather, but it's clearly having an effect on our publishing team here at Mainline Menswear, with the last couple of posts all being about winter clothing. This post will be no different.
Without further ado, here are my personal favourite five men's designer cardigans currently available to purchase right here at Mainline Menswear.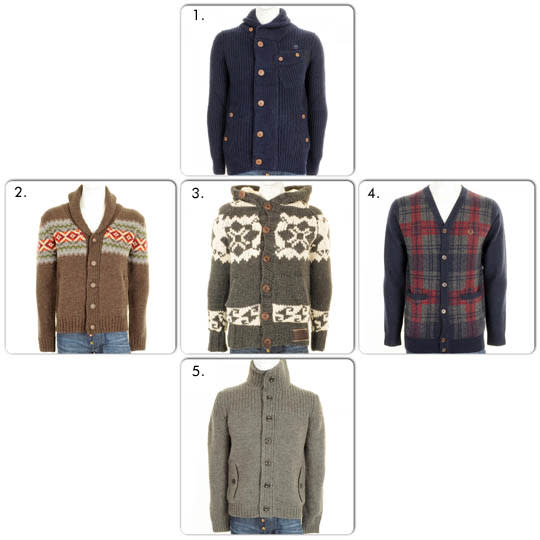 1. G Star Raw CL Noble Cardigan – £139
Top of the list but by no means better than all of the other cardigan's in this featured blog post is the G Star Raw CL Noble Cardigan in what the manufacturer describes as a Navy Heather Knit. This is a seriously warm cardigan, owing the heavy industrious construction of the garment; something which the G Star RAW label has become synonymous with over the years. The cardigan also features a shawl neck design which will help keep the winter chill off your chest. Two pouch style pockets on the waist feature with a contrasting trim using a rugged knitted pattern and two buttons to securely fasten each pattern. 5 button fastening will also ensure the cold is well and truly kept at bay. The signature G Star Logo is embroidered in dark grey fabric just above the unique chest pocket, which sits slightly on an angle. This cardigan is built to last, like so many of the products created by G Star, and the design manages to be subtle yet refreshingly different from other cardigans currently on the market!
2. Gant Fairisle Shawl Cardigan – £225
The American brand Gant Clothing has made quite an impression during its début season here at Mainline Menswear. We're hardly surprised to see items from the Gant Clothing range regularly featuring on the Mainline Menswear best sellers page, owing largely to the impeccable build quality and classic, timeless designs. The fair isle shawl cardigan from Gant could easily have featured in our 12 Christmas Jumpers for the 12 Days of Christmas post which featured earlier this month, but it's a cardigan. Not a jumper! Finished in a dark brown melange lambswool knit, this cardigan features a chunky shawl style collar and a full front fastening with the Gant logo embossed onto the buttons. The classic fair isle knitted pattern, in grey, green, orange, burgundy and cream features across the chest, returning to the dark brown colour on the shoulders. A real classic piece that would will undoubtedly bring a touch of class to your Christmas outfit. This item is selling fast so act now to avoid disappointment.
3. Superdry Courcheval Knit Cardigan – £175
Anyone reading this who already has Superdry garments in their wardrobe won't need telling the attention to detail evident in designer clothing produced by this Japanese label. This stunning full fastening cardigan features chunky hems on the hood, collar, cuffs and waistline and proper wooden buttons which add a real touch of class to proceedings. The contrasting knitted pattern designs feature in cream and are stitched across both the top and slightly thinner across the bottom. As with the other garments featured in this write up, this Superdry Cardigan is built to last. On the exterior, the garment is constructed from 25% wool, 35% polyamide and 40% acrylic – meaning, unlike many other knitted cardigans, this particular example is quite tolerant of the washing machine. Also features a full cream soft inner lining for superior comfort and no itching. Signature Superdry logo is embossed onto a dark leather patch, fastened onto the bottom left of the cardigan adding another touch of pure clothing class!
4. Fred Perry Tartan Cardigan – £135
The cheapest cardigan on this feature post is by no means the least stylish! Here is a perfect example of why Fred Perry has been so successful in the men's designer clothing industry over the years. They have this uncanny ability to take classic styles and make them even more classic. Ignoring what the brand have done for the popularity of the polo shirt over the years, here we see the Fred Perry take on the classic gentlemen's cardigan. A future classic in the making, this pure lambswool cardigan features a v-neck design and a contrasting tartan pattern on the front body . The tartan knitted pattern has been subtly executed, making this suitable for stylish men outside of Scotland, although we do, of course, expect to see this product go down better with our fashion conscious customers north of the border! Adding weight to this suggestion is the tartan patterned elbow patches! Two pouch entry pockets on the waistline have contrasting blue hems, which are the same colour used throughout the reverse of the garment and right down the full length sleeves.
5. Hackett Woodsman Wool Cardigan – £225
The Woodsman Wool Cardigan by Hackett London features a full front fastening with black buttons featuring the Hackett logo embossed onto them. The collar comes right up underneath your chin to provide the ultimate in comfort and warmth on a cold winters day. The subtle nature of this garment, with an all over light-grey colour, makes it incredibly versatile meaning it can be worn with a variety of outfits whether you're in casual work wear or something a little more formal! Both pockets on the waistline feature a button-down flap entry for added security – these especially come in handy when carrying loose change, car keys or any number of typically evasive items which spring to mind. A contrasting waffle-style knit features across the shoulders, lending another dimension to this cardigan of pure quality. 100% wool construction with a polyester, wool and viscose lining.
We hope this post helps you choose the perfect winter cardigan to help you warmly get through the coming month's. You can shop all cardigans available at Mainline Menswear right here. To jump straight to those cardigans featured in this post simply click the image above and you should then just be a couple of clicks away from being much warmer this winter!
What did you think of this post?
0
0
[]
[]
[]
GBP
false
0
btMZVsUCMwLuKvMKMqGZkENtSXUEZQZhZnUy