EA7 Emporio Armani New To Mainline Menswear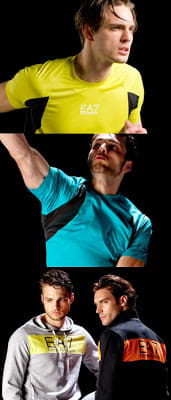 Well, we say new EA7 has been appearing on the Mainline Menswear website for the past couple of seasons but as a much smaller range underneath the Emporio Armani banner, offering a few t shirts, jumpers and accessories. But now that EA7 has really taken off back in Italy Giorgio Armani has put a lot of International marketing into the brand and is really seeing a boost in the collection in the UK, which means that the amount of EA7 Armani clothing you'll be able to buy on Mainline Menswear will be increasing in the coming seasons.
So, why EA7? EA is obviously Emporio Armani and the seven comes from Giorgio Armani's love for AC Milan, and his close friend Andriy Shevchenko who wore the number seven while at the club. EA7 stands for everything sports and casual and among the ranges of tracksuits, jogging bottoms and hooded jumpers you'll find some great pieces that carry the famous Armani logo and are definite sportswear, however you'd never wear them in the gym. The quality found in every piece of Armani whether it be EA7 right through to Collezioni is outstanding and across the amazing selection we have online for spring summer 2012 we've got a great range of fabrics and materials that make up the sweatshirts, jumpers and jackets.
This season we have lightweight woven jackets, hooded zip tops, track tops and tracksuits for the chilly weather and a great range of EA7 t shirts, polo shirts and shorts for the sunny weather in a small palette of colours. You'll mainly find the basic grey, white, black and navy blue in Armani EA7 this season with the odd bright colour thrown in to add some difference while as the collection grows season by season. You can also find some amazing accessories from the Milan designed brand with a great range of wash bags, baseball caps, beanies and gym bags available for the man who wants the EA7 Armani design but doesn't want a hoody with the logo on the front.
EA7 Emporio Armani is really set to explode in the UK this summer with fashionable men and fans of the Armani brand set to start the clamour for the latest must have brand in the world of fashion. Head over to the amazing EA7 collection currently available on Mainline Menswear, and we can guarantee that something will catch your eye pretty quickly!
What did you think of this post?
0
0
[]
[]
[]
GBP
false
0
wIbfJUUtbZipsZOlhBHYtvqKqnnlLiZYyyNy