How To Wear A Denim Jacket
It's hard to go wrong with a denim jacket. It's the perfect item to wear on any occasion, and it goes well with anything you could put together in your wardrobe. There are many different styles of jackets out there, however, and not all of them are created equal! In this post, we'll give you tips on how to wear a denim jacket so that you can look your best.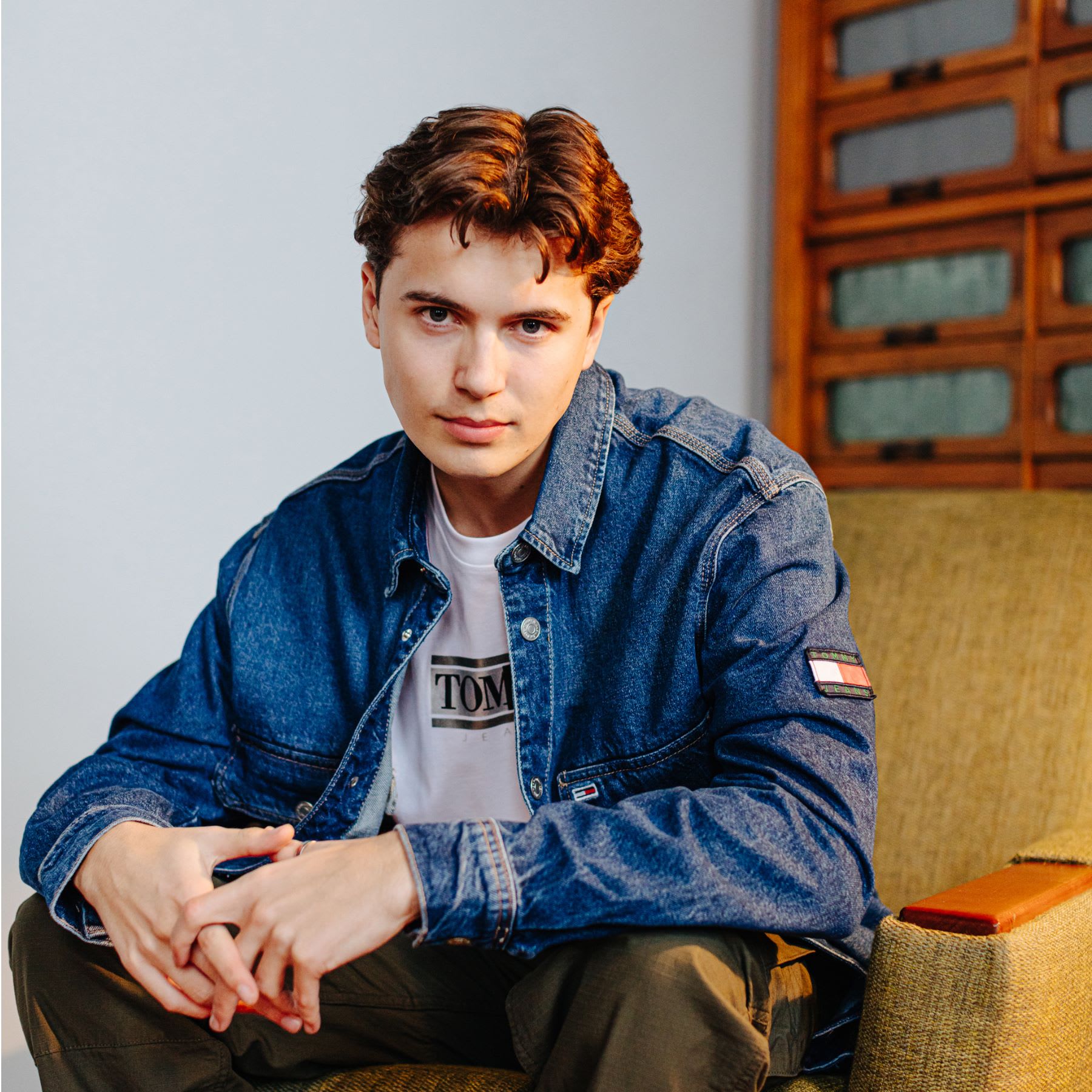 Transitional outfits
As the weather transitions from winter to spring, it can be tricky to know what clothes to wear. You don't want to be too cold, but you also don't want to overheat.
The key is layering: wearing several thin layers that can be easily removed or added as needed. This allows you to adjust your outfit according to the temperature outside. And a denim jacket is the perfect piece to layer over any outfit.
It's casual and comfortable, but can also be dressed up or down as needed. Try channelling classic Americana by layering a blue denim jacket over a plain white tee. However you decide to style your upper half though, make sure your bottom half is fitted.
If you want to add a bit of edge to your look, try a black denim jacket instead. It will still go with everything in your wardrobe, but the darker colour will give your outfit a more sophisticated feel.
You can also experiment with different washes and finishes. A distressed denim jacket will add a bit of grunge to any outfit, while a raw denim jacket will give you a more rugged look. And if you really want to stand out, try an overdyed denim jacket in a bright colour like red or green.
Summertime style
When the weather gets hot, it can be tempting to just throw on a pair of shorts and call it a day. But if you want to look stylish, there are some key things to keep in mind.
First, choose the right denim. A lightweight denim jacket makes the ideal choice for summer, as it will be more breathable and won't weigh you down. Second, consider the fit. Loose-fitting shorts are comfortable, but they can also look a bit scruffy. Opt for a slim-fit or tailored option instead.
And finally, don't forget the details! Add a pop of colour with classic pieces like a patterned shirt or brightly coloured shoes. Or keep it simple with a pair of iconic white sneakers.
No matter how you choose to style your denim shorts, a jean jacket is the perfect finishing touch.
Wedding season
The wedding season is almost upon us, and that means it's time to start thinking about what to wear. If you're wondering how to wear a denim jacket to a wedding, we're here to help! If you're attending a summer wedding, a light jacket is a perfect option. It's dressy enough for the occasion, but not so formal that you'll feel out of place.
For a more casual wedding, try pairing your denim jacket with a pair of dark wash jeans. The key is to choose a slim-fit or tailored style so you don't look too relaxed. And if you're really looking to make a statement, go for a double denim look with a pair of white jeans.
Whether you're attending a formal or casual wedding, don't forget to accessorize! A fedora or trilby hat will add a touch of class to any outfit, and a printed pocket square is the perfect way to add a pop of colour.
Dare to double denim
One of the great things about denim jackets is that they go well with other denim pieces. So if you're uncertain about what to wear with your jacket, why not try doubling up on denim?
A simple jeans and denim jacket combo is always a winner, but you can also get creative with different washes and colours. Just make sure the colours complement each other.
Doubling up on denim doesn't have to bring back memories of the 90s or give off a B*Witched vibe. In fact, when done correctly, it can be a really stylish look.
Try pairing a light-wash denim shirt with a dark-wash pair of jeans for an iconic look, or go for something more daring with a black and white combo.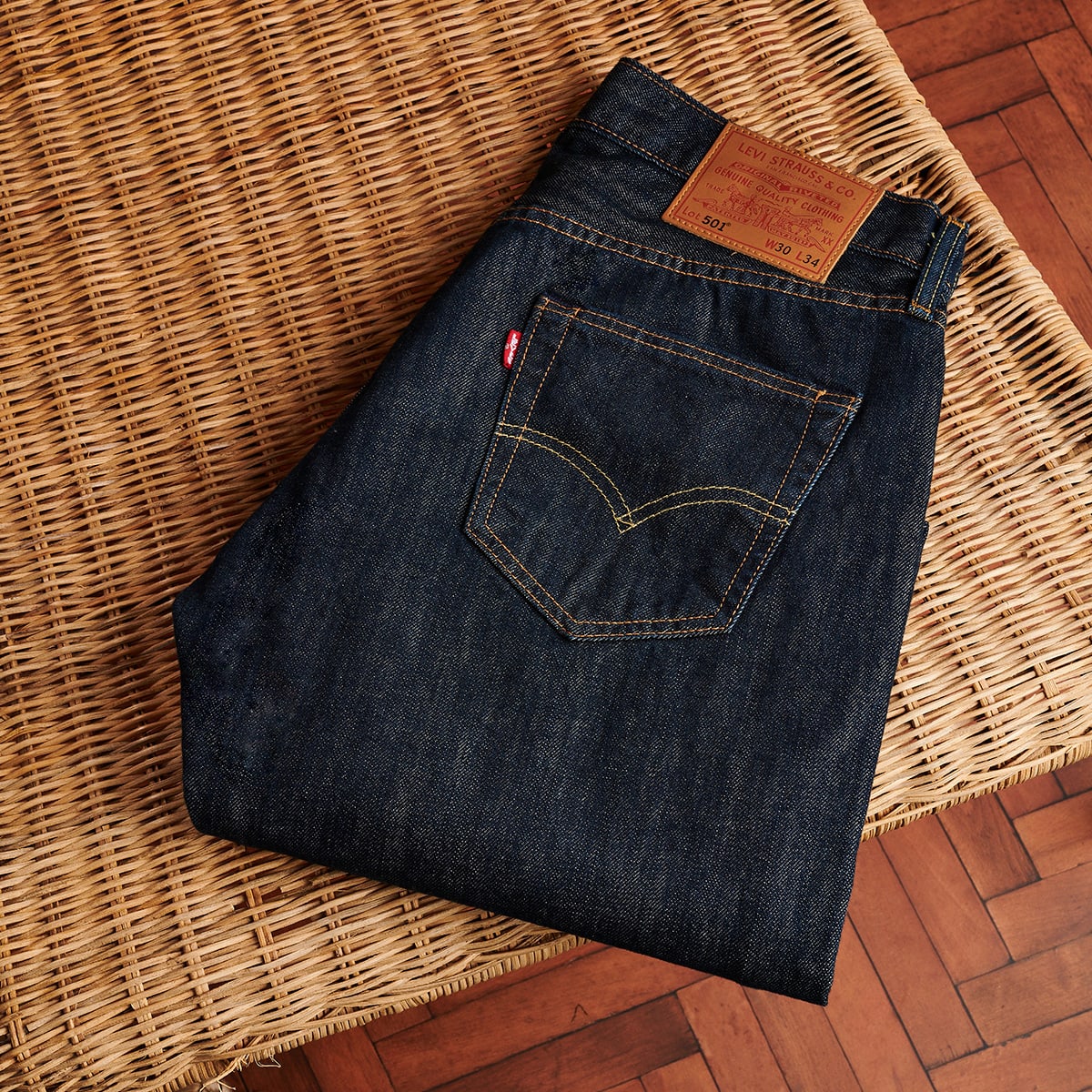 A pop of colour
If you're feeling daring, why not add a pop of colour to your outfit with a bright or patterned denim jacket? This is a great way to add some personality to your look.
Just make sure the rest of your outfit is fairly neutral, so as not to overwhelm yourself with too many patterns and colours. Remember, there's no dress code when it comes to jean jackets – you can wear a white denim jacket with black jeans if you like!
Equally, black denim jackets work well with patterned shirts. Just make sure the pattern is fairly small so it doesn't overwhelm your look.
Keep it timeless
If you're not sure what to wear with your denim jacket, or if you just want a fail-safe look, then go for a classic style combo. A white T-shirt and blue jeans are always a safe choice or try a black denim shirt and dark wash jeans. This way you can't go wrong!
An oversized denim jacket or overshirt is also a great way to keep your look on trend. It's comfortable and stylish and will work with pretty much any outfit.
And again – don't be afraid to wear jeans. There are so many fun and interesting ways to style a jean jacket without it looking like a 'Canadian tuxedo', so have fun with it!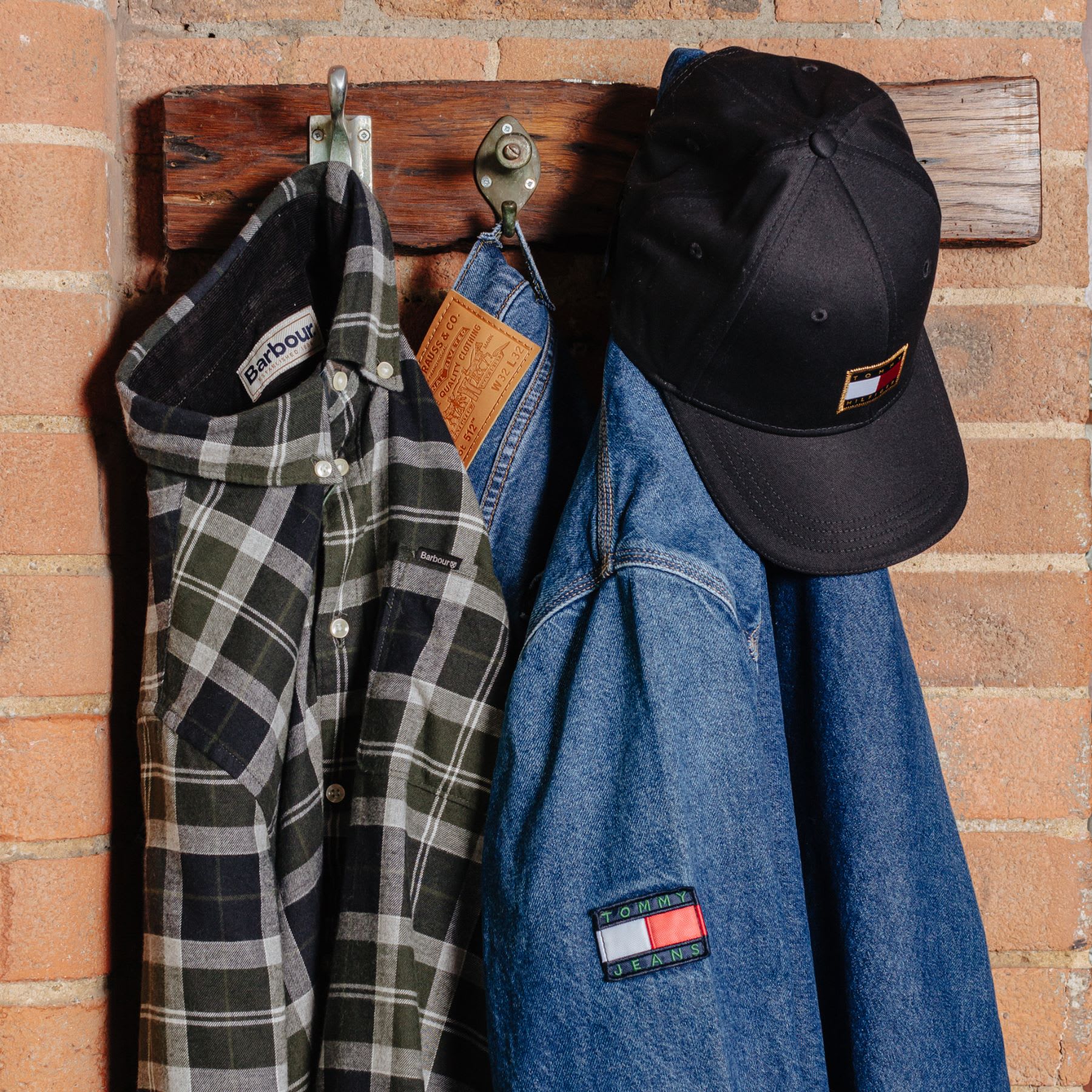 Pair with chinos
If you're wondering how to wear a denim jacket but you want to avoid double denim, then try pairing it with some chinos. This is a great way to add some contrast and texture to your outfit.
You could go for a light or dark wash denim jacket, depending on the look you're going for. Just make sure the colours match.
A chino and denim jacket combo is perfect for a smart-casual occasion, and it's a great way to show off your style credentials.
Try a different look
If you want to switch things up a bit, why not try a different style of denim jacket? A bomber jacket is a great option for a more casual look, while a Harrington jacket is perfect for a smarter wardrobe.
There are some amazing denim overshirts on the market too, which are perfect for layering over a T shirt or jumper. So, if you're looking for something a bit different, why not try one of these styles?
Accessorize
One of the best ways to enhance your classic denim jacket is to accessorize. A simple scarf or hat can add a touch of personality to your look, and a printed pocket square is the perfect way to add a bit of flair.
Choose the right fit
One of the most important things to consider when choosing a denim jacket is the fit. You don't want it to be too baggy or too tight – you want it to be just right.
A good rule of thumb is to go for a size up from your regular shirt size, so you have some room to move. Choosing a classic fit will give you a versatile option that pairs well with everything.
If you want a more relaxed fit, go for an oversized version. This way you can still move around comfortably and it will look stylish too.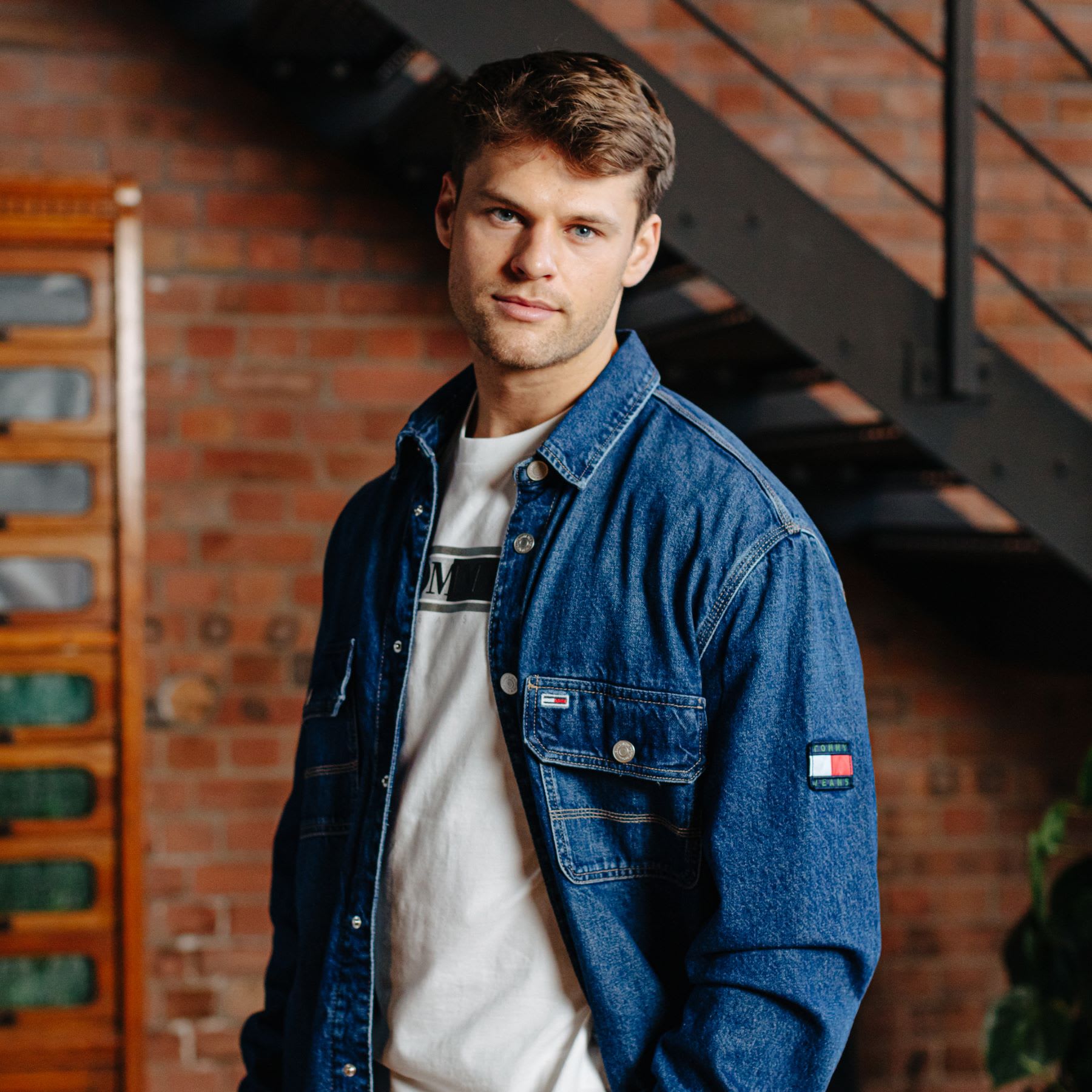 So, there you have it! These are just a few of the ways you can style a denim jacket. So get out there and experiment with different looks until you find one that you love. And don't forget – have fun with it! Generally speaking, there is no hard and fast rule when it comes to fashion, so just go with what you feel comfortable in. After all, fashion is all about expressing your own unique style. If you're looking for something a little different, have a read of our guide to the best men's spring jackets.
Now that you know how to wear a denim jacket, why not try one of these stylish looks?
A denim jacket with a white T-shirt and black jeans is a timeless look that will never go out of style.
For a more relaxed look, try an oversized denim jacket with some light-wash jeans.
If you want to add a pop of colour to your outfit, try an over-dyed denim jacket in a bright hue like red or green.
Or for a smart-casual look, pair a denim jacket with some chinos.
A denim jacket is a perfect way to add some interest to a plain outfit – try pairing it with a printed flannel shirt.
Accessorize your denim jacket with a scarf or hat for a stylish look.
What did you think of this post?

0
0
[]
[]
[]
GBP
false
0
YJZtUoUYGEqPTPjtylMGOULfRolZBZsHZgfu