What Sunglasses Suit Me?
When it comes to sunglasses, the options can seem endless. There are so many different shapes and sizes of frames, and each style seems to suit a different person. So how do you know which pair of sunglasses is right for you?
The different shapes of people's faces
There are almost as many different shapes of faces as there are people in the world. But if we narrow it down a bit, we can still see a few distinct patterns.
Oval faces
Oval-shaped faces are considered to be the ideal shape because they are symmetrical and well-proportioned. However, not all oval faces are created equal. Some may be longer than they are wide, while others may be more round. The defining characteristic of an oval face is that the width of the face is less than the length.
Round faces
People with round faces have several distinct physical characteristics. For one, they tend to have wide cheekbones and a fuller chin. Additionally, their faces tend to be the same width from top to bottom, giving them a circular appearance.
Heart-shaped faces
Heart-shaped faces tend to have a wide forehead, high cheekbones, and a narrow chin. This gives the face an overall "heart" shape. The hairline is usually well-defined, and the face tends to be more angular than round.
Square faces
Square-shaped faces are characterized by a strong, angular jawline and wide cheekbones. The width of the face is typically the same as the length, giving it a geometric appearance. 
Diamond-shaped faces
A diamond-shaped face is characterized by a narrow forehead and chin, with high cheekbones that create a slight wideness at the centre of the face. This shape is often considered to be one of the most aesthetically pleasing facial shapes, as it creates an illusion of symmetry and balance.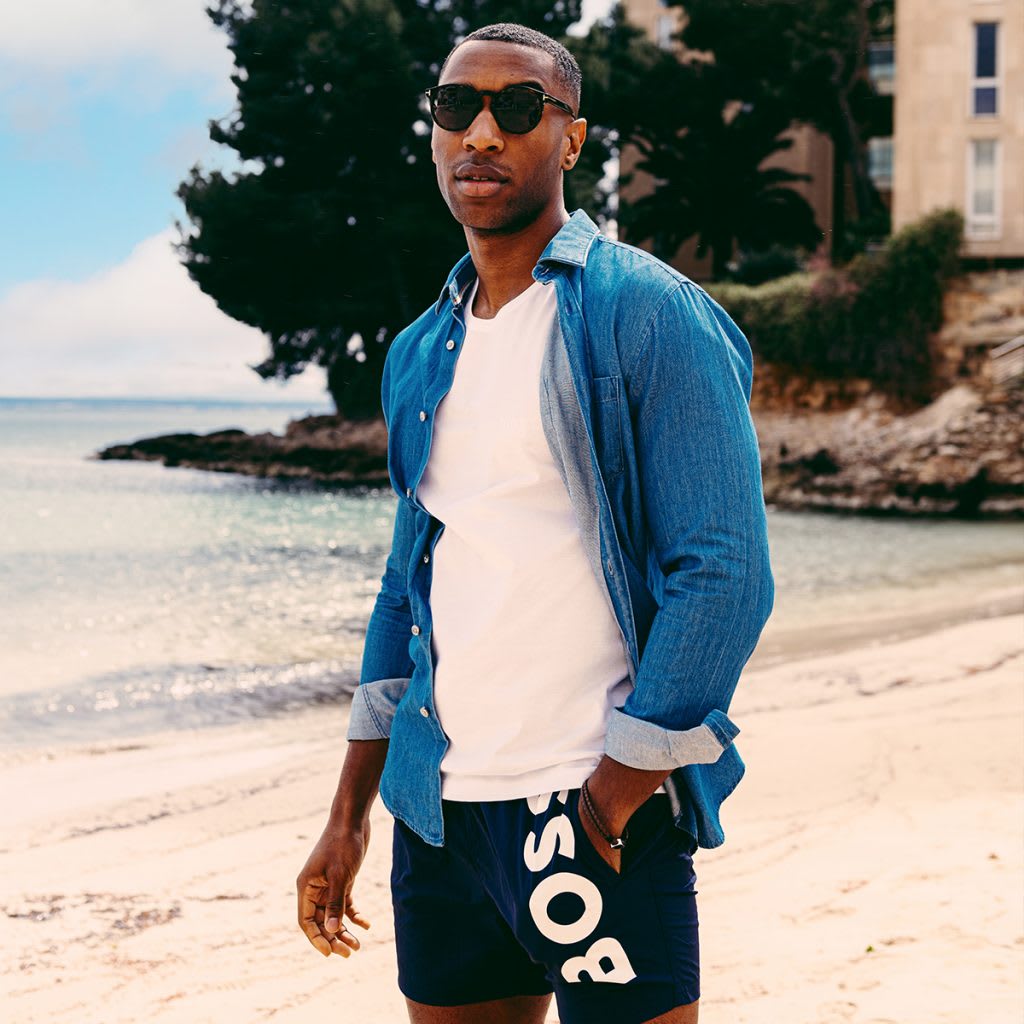 Which sunglasses suit each shape
Now that you know the different shapes of faces, it's time to find out which sunglasses best suit each one.
Which sunglasses suit a round face?
If you've got a round face, don't despair – there are plenty of sunglass styles that will flatter your look. The key is to choose frames that are wider than they are tall, as this will help to elongate your face.
Round frames are a great option, as they offer soft contrast to your features. If you're feeling like a bit of a Maverick, try some Top Gun style aviator sunglasses with strong metal frames – the focal point of the frames is at the top, which helps to balance out a rounder face. So whatever style you choose, just make sure that it's wider than it is tall – and you'll be looking chic in no time.

These bold aviator-style sunglasses from BOSS would work a treat!
Which sunglasses suit an oval face?
If you have an oval face, congratulations! You have the most versatile face shape when it comes to choosing sunglasses. Just about any style will look great on you, so have fun experimenting. If you want to play it safe, though, go for a classic wayfarer style. You can't go wrong with that look.
If you're feeling a little more daring, try a cat-eye or aviator style. An oval face shape is an ideal canvas for statement sunglasses. Just make sure to avoid anything that's too oversized and don't imbalance your face. And remember, the most important thing is to have fun with it! There are no rules when it comes to fashion, so wear whatever makes you feel confident and comfortable.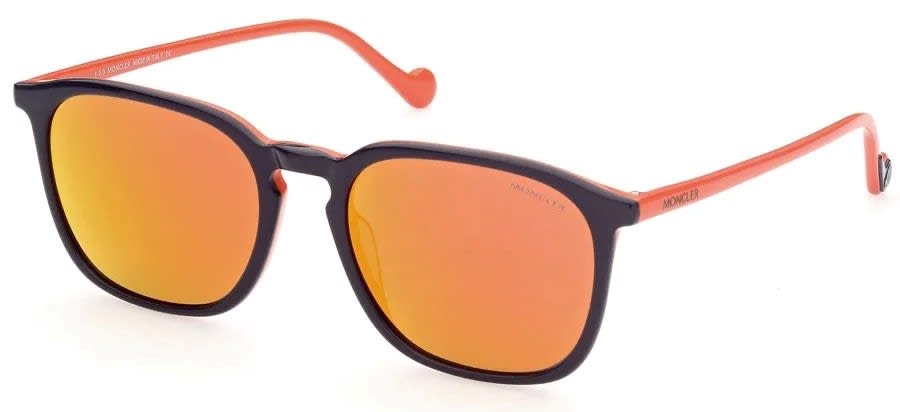 Try something different with these orange Moncler sunglasses.
Which sunglasses suit a heart-shaped face?
If you're one of those lucky people with heart-shaped faces, almost any style of sunglasses will look great on you. However, there are a few things to keep in mind when choosing the perfect pair. First, look for frames that are wider at the bottom, as this will help to balance out the narrowness of your chin.
Second, opt for sunglasses with softer lines and rounded edges, as these will help to soften the angles of your face. And finally, don't be afraid to experiment with different colours and designs – a little personality never hurt anyone! With these tips in mind, you're sure to find a pair of sunglasses that suit your unique style.
Why not mix things up with a pair of Emporio Armani shades?
Which sunglasses suit a square face?
If you have a square-shaped face, you already know that you can't pull off just any pair of sunglasses. With your strong jawline, broad forehead and sharp features, you need something that will add a little bit of softness to your look.
The good news is that there are plenty of options out there for sunglasses that suit a square face. One option is to go for a pair with rounded frames. This will help to balance out your sharp features and give you a more gentle look. Oversized frames also work well to offset both your forehead and your jawline.
Avoid rectangular frames and geometric shapes as these can accentuate the angles of your face. And make sure to steer clear of narrow frames and anything that's too small – it will only make your face look larger.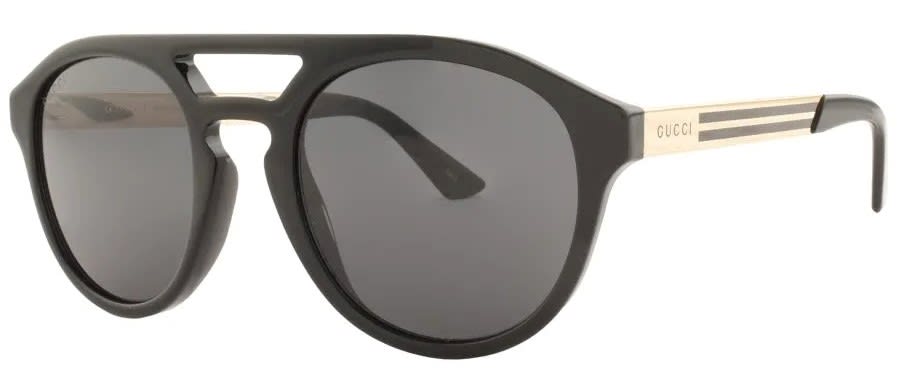 Try these interesting round frames by Gucci.
Which sunglasses suit a diamond-shaped face?
If you have a diamond-shaped face, you're in luck: almost any style of sunglasses will look good on you. That's because a diamond face is characterized by having an equally sized forehead and jawline, with defined cheekbones in between.
This versatile shape looks good in both round and angular frames, so the sky's the limit when it comes to choosing a pair of shades. Just make sure to avoid anything too oversized, as this can overwhelm your features.
And if you're looking for a little bit of extra flair, consider opting for a pair with some embellishments or unique detail work. After all, when it comes to diamonds, more is always better.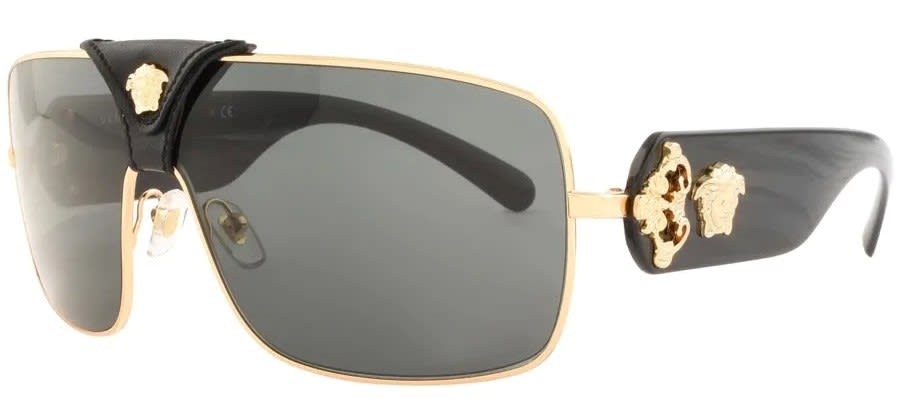 Make a statement with these stunning Versace sunglasses!
The benefits of wearing sunglasses
Wearing sunglasses has become something of a fashion statement in recent years. But while they may look good, they also serve an important function. Sunglasses help to protect your eyes from the harmful effects of UV rays. These rays can cause cataracts, macular degeneration, and other problems.
In addition, they can also lead to wrinkles and other signs of premature ageing around the eyes. So not only do sunglasses help you look good, but they also help you to stay healthy. And that's something that we can all appreciate.
How to find the right sunglasses for you
Mainline Menswear stocks designer sunglasses from all your favourite brands. Whether you're looking for a classic pair of wayfarers or something a little more unique, we've got you covered. The first job is to work out which frame shape will suit you best (hopefully our tips will help with that).
Take a look through the wide variety of frames and styles available, and place your order. We offer free delivery on purchases over £35 and next day delivery is available so you could be wearing your new shades before you know it!
In conclusion
Sunglasses are a great way to protect your eyes from the sun's harmful UV rays. Not only do they help you look good, but they also help to keep you healthy. When choosing a pair of sunglasses, it's important to find a style that suits your face shape.
Oval-shaped faces can wear most styles, square faces should look for something with rounded edges, and diamond faces can pretty much pull off anything. No matter what your shape, Mainline Menswear is sure to have the perfect pair of sunglasses for you. So take a look through our collection today!
What did you think of this post?
0
0
[]
[]
[]
GBP
false
0
SZbBDmNfZZAiUKfFZktKTpARZJaHrfSMlqIZ